About Hilo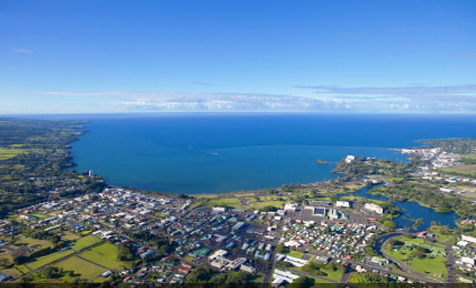 For information about Hilo and the surrounding activities, please visit these informational sites. Activities while in Hilo - Out-of-this-World Hilo Map. In addition view our Dining Guide for dining options and our Driving Guide for an interactive map that will provide you with driving directions.
Transportation
To best take advantage of the touring of Hilo town and the Big Island in general, it is suggested that a vehicle be rented. However, cab companies may be contacted in advance for pre-arranged pick-up and drop-off arrangements. The Hilo Airport website has detailed information about cab companies that operate in Hilo and adjacent areas.
Airport
Your point of destination should be Hilo on the Island of Hawaii, also known as the Big Island within the Hawaiian archipelago.
Dining Guide
To help you find a place to dine while visiting Hilo town, we've put together a Dining Guide to help narrow down your options. Click here for the Dining Guide.
Lunch at the Sky Garden Cafeteria - 'Imiloa Center - Please note that seating is limited at the Sky Garden Cafeteria. If you wish to have lunch at the cafeteria, you will need to make a reservation, before 9am, at the ngCFHT registration desk.
Driving Guide
Use our Driving Guide to find your way to and from the Hilo Hawaiian Hotel, the Imiloa Astronomy Center, the Hilo International Airport or any of the dining establishments listed in the dining guide. Click here for the Driving Guide.